Felt roofing services in Wakefield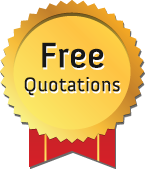 With many years' experience under our belts you can be sure of a friendly, knowledgeable customer experience when you call us with any concern about your built up felt flat roof.
Built up felt roofing, when fitted correctly, offers a durable, attractive and affordable weather tight seal.
We usually apply built up felt on flat surfaces using three sheet layers to create a dense, long lasting seal against the elements. We then use heated bitumen to attach each layer to the next. This will form a very powerful bond to provide that peace of mind.
Long-established and local through and through
We've been in the Wakefield and surrounding area for a long time and we'd be delighted to show you examples of our past work.
Here are a few reasons to choose us for all your felt roofing needs:
We're a true customer-focussed team – as soon as you call us, you'll notice our commitment to you
Many years' experience with repair and maintenance services on all roof types – see our customer testimonials to find out more
Free, written quotation setting out affordable prices without obligation – call us to see for yourself
Recent advancements in built up felt roofing technology speaks for itself and now stands alongside other types with regard to longevity, safety and general appearance. As rainfall is higher than average in Wakefield we provide a lengthy guarantee on all work undertaken.
Repair service
If you have a built up felt roof that requires attention or repair work, call us to see what we can do. We've completed work on all types of building and offer a service to be proud of.
Contact us on 01924 846118 and we'll show you how we can help.