Flat roofing in Wakefield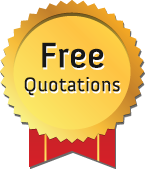 Long established in the Wakefield area, we are ideally positioned to recommend the perfect flat roofing solution for your business or residential property. We are experts in the construction and repair of built up felt roofing as well as the incredibly practical GRP fibreglass option.
We offer lengthy guarantees on all our work and with a lifespan often exceeding 20 years, flat roofing offers a cost-effective and attractive solution. In recent years we have seen great leaps in the resilience of modern materials and our workmanship enables us to get the best out of them.
Proud to be local
We're a team that is based in Wakefield and we are proud to consider ourselves true flat roofing experts. Our workmanship and attention to detail is first rate and we guarantee that you will be satisfied with our work.
Long experience of repairing, fixing and installing all types. Don't hesitate, just give us a call
Our aim is to make our prices as affordable as possible, whilst offering a service of the highest quality
First site inspection will be followed by a thorough and honest appraisal to identify the perfect solution
Free, no obligation quotation at affordable prices and job performed with enthusiasm and pride
Place your trust in us
Flat roofs are an exceptionally reliable option these days and our quality work and long guarantees means you can rest assured. We use the most modern materials and are well versed with the latest techniques. You'll sleep easy knowing our work is keeping you dry and safe.
We know that our range of services will delight you and we can show you many other satisfied customers around Wakefield. Contact us today on 01924 846118 or email us through the website.