Roofer team in Ossett and Gawthorpe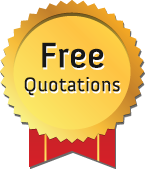 If you are anywhere in the areas around Ossett and Gawthorpe and your in search of a roofer, call us. If your roof needs any kind of attention, we have an unrivalled track record in quality roofing repair and maintenance services. We also provide full installation and we're a team of roofers that will give you confidence regardless of what your roofing needs.
As we have been serving the homes around Ossett and Gawthorpe for so many years, we can be trusted to protect our reputation as the expert roofers for all roofing jobs.
Whether your property is old or new, flat, pitched or flat covered our expert roofing team will produce a perfect finish: sealed, safe and secure.
Our wide range of services
Roof repairs - all jobs considered and satisfaction comes as a guarantee
Full re-roofing service - new roofs constructed in slate, tile or flat roofs in GRP or built up felt
Soffits, fascias and guttering - we'll help update your building using our first rate, quality workmanship
Flat roof speciality skills - many years' experience in felt and GRP fibreglass roofs
Velux windows - our expert team will help you through the process
Slate and tile - cracked or loose tiles are a nuisance. Call us today
Chimney repair - whatever your chimney needs, we're here to make it right
Excellent customer service
Our prices are fair and affordable, and we offer full and lengthy guarantees on all the work we do.
Once we've visited you, we'll provide a written quotation with a quick turnaround. Please feel free to call us to check out any details. We're a friendly team! Local people know us – ask to see their testimonials when you call. We're sure you'll find just what you need.
If you have any concerns about your roof at all, contact us today on 01924 846118.